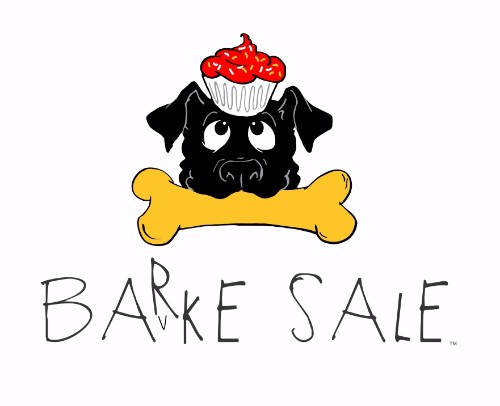 What on earth is a BARKE SALE™ ?  You can hold your own BARKE SALE with treats for both people and pets, and help Canines-N-Kids raise awareness and funds for cancer research that can help put an end to the cancers children and our four legged best friends both! develop.
Anyone, anywhere, anytime can hold a BARKE SALE and make a difference.  
A BARKE SALE is easy!  One person (even a kid), school or volunteer group, or a company can hold an event, and we are here to help you make it a success! We even have a special Fun Patch kids can earn for their effort! Please email us or call 703-835-4346 with questions as you plan and hold your event. 
A BARKE SALE is fun! You can use your imagination – bake up a storm, make posters and more, or keep it simple. Most of all, have fun and know that you are doing good!!
Just follow the simple steps we've laid out below – you will find everything you need!
---
YOUR BARKE SALE STEP BY STEP
Let us know when and where you want to do your BARKE SALE and a little about why.  Your story will inspire others to want to participate and contribute!  When you are finished, Canines-N-Kids will send you a special link to your very own BARKE SALE™ Fundraising page! We will also send you a BARKE SALE Kit containing postcards, flyers, a special cookie cutter, recipes and more!

Step #2- Share the News About Your #BARKESALE

Once you have your date and location, it's time let everyone know about your event. Email family, friends, neighbors, classmates or colleagues the link to your landing page to let them know! Post your event and the link on social media using the hashtag #BARKESALE Invite community or corporate sponsors to contribute or donate ! Make fliers or posters if you like! Tell everyone that your BARKE SALE™ is helping fight the cancers kids and our canine best friends BOTH develop, and contributing to funding lifesaving cancer research to find better medicines and a cure! Be sure to tag us @caninesnkids on Facebook & Instagram, and @CNKFoundation on Twitter!

It's time gather the things you'll need for the big day, and to bake or acquire your awesome people and puppy treats! Click on the Checklist and we'll take you through the preparations, one step at a time!

STEP #4 - Have Fun at your BARKE SALE™!

Your table is set with goodies for people and pets, you've got everything ready! Remember to explain that you are "helping kids and man's best friend beat cancer they both develop" and that proceeds are helping the Canines-N-Kids foundation "fund important cancer research that can help bring new medicines and a cure for BOTH kids and our canine best friends". Let your passion about why you are doing this shine through! Most of all, HAVE FUN!

STEP #5 - You Did Great Doing Good! What's Next?

Congratulations! You did it! Because of your efforts, Canines-N-Kids Foundation will be able to advance research that can help kids and pet dogs beat cancers they both develop! Through your BARKE SALE you have made a difference and a contribution to a future where one day, there will be no more cancer!

Please submit your donations within 14 days of your BARKE SALE to:

Canines-N-Kids Foundation
25050 Riding Plaza #130-120
South Riding, VA 20152

All donations from your event can be sent by check or money order, made payable to "Canines-N-Kids Foundation". PLEASE DO NOT SEND CASH! For additional instructions please see Instructions for Submitting BARKE SALE Donations.
 BARKE SALE™ is a registered trademark of the Canines-N-Kids Foundation