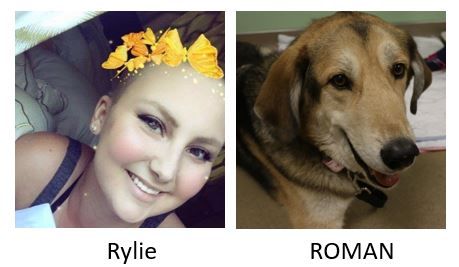 It's hard to believe that Canines-N-Kids was launched this September with an ambitious goal to put an end to the devastating cancers that afflict both our precious children and man's best friend. Each day since, we have been inspired by the incredible patients – kids like Rylie Heisler (pictured left) from Grand Forks, Minnesota, and her canine counterpart – ROMAN (pictured right), a shepherd mix. Both have battled the deadly and disfiguring cancer called osteosarcoma – the identical cancer! ROMAN is a patient in a clinical trial a OSU Vet School evaluating a medicine that could inhibit the spread of this cancer to her lungs, and one day also help kids like Rylie!
Incredibly, by studying and treating a number of cancers in man's best friend when they get sick, we can better understand cancer in kids – and ultimately develop better medicines and a cure to help both of these most vulnerable patient groups.
In three short months , we have worked hard to raise awareness of the tremendous potential of comparative oncology to move the needle, weighing in on the Moonshot initiative, building bridges and partnerships with advocacy organizations, industry and others to help advance this work, and we have ambitious plans for the coming year. Through it all, we have been buoyed by incredible receptiveness and an outpouring of encouragement from all of you - friends and strangers around the globe, and are determined that, together, we will have a tremendous impact in 2017 and beyond!
We particularly want to recognize our partners Dulles South Animal Emergency and Referral Hospital (http://dullesvets.com/), Saint Germain Catering (http://www.saintgermaincatering.com/) and Petco Foundation (http://www.petco.com/petco-foundation) for their support over the past couple of months!
As you gather with dear ones during the holidays and reflect on the blessings of the Season, please consider in your year-end plans that #GivingOnceSavesTwice - you can help bring lifesaving new approaches to some very special patients! Working together, we will get there- a world with no more cancer!
From all of us, thank you again for your support. We wish you Happy Holidays, and a wonderful start to a happy, healthy and prosperous 2017!
Gratefully,
Ulrike Szalay
Executive Director, Canines-N-Kids Foundation