Many of the world's leading pediatric and veterinary cancer researchers, representatives from pharma and biotech, regulatory experts, leading cancer and animal health foundations, and childhood and canine cancer patients gathered in Boston in November 2018 for the first- of- its kind Paws for a Cure Research Symposium to share state-of-the-art science and what we know about cancers affecting both kids and pet dogs and to identify the most promising research and collaborations to accelerate progress for these most vulnerable patient groups.
In a robust program co-hosted by the Canines-N-Kids Foundation and Merck Research Labs, topics and presentations centered on
Cutting Edge Content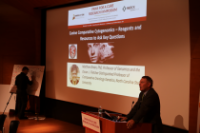 Comparative Genomics, Immunology and Imaging
Cutting edge research in CAR-T cell immunotherapy, osteosarcoma, lymphoma, brain cancers and more
Regulatory and ethical discussions related to clinical trials in pediatric and canine patients
In-Depth Discussion of Drug Development Challenges
A major focus of the Symposium were the challenges faced by drug developers (large and small), particularly in smaller populations including childhood cancers, and the potential for comparative oncology approaches as a means to address important questions like predictiveness, patient population size and cost mitigation in clinical trials.
Nearly 40 World Class, Cross-Disciplinary Speakers
Dr. Michael Kastan, Executive Director of the Duke Cancer Center delivered the opening keynote, providing historical context and his belief that comparative cancer research is compelling, bi-directional and must be furthered for the benefit of all cancer patients.
Dr. Cheryl London, Veterinary Oncologist on the faculty of Tufts Cummings Veterinary School and Medical School provided an overview and set the context for Comparative Oncology reminding of the high failure rate in today's drug development, the need for additional models of naturally occurring disease, and several key examples where canine patient data helped to inform human drug development, and vice versa.
Patient Centricity
A highlight of the Symposium was its focus on patients. The Patient Perspective was powerfully presented by speakers to include childhood cancer survivors as well as canine cancer patients. [Pictured here from left to right, Dr. Robbie McLeod, MRL,  Drs. Josh Schiffman and Greg Aune, childhood cancer survivors and pediatric oncologists, Sheila Leavitt with Zucchi (canine lymphoma patient), Mary Tankersley, survivor and advocate, Former Judge, Lee F. Satterfield, Survivor and Author, and Ulrike Szalay, Canines-N-Kids Founder]
Patient Perspectives Panel, moderated by Dr. Len Lichtenfeld, American Cancer Society
Forging New Collaborations
Through networking and discussion participants challenged themselves to think differently about the translational power of integrating canine patients into the drug development pipeline and a new commitment to work together to speed the development of new and better medicines our most vulnerable patients, two and four-legged
Zucchi and Mary - 2018 Canine & Childhood Cancer Warriors
---
Mark your calendars for the 2nd Paws for a Cure Research Symposium, June 22-24, 2020 in Boston!  Details to be announced soon.
For Sponsorship Information, please email us