Congrats 2018 Athletes, Volunteers & Sponsors!
You CRUSHED it!!!
5K Two By Four Race Finishers & Times
A HUGE thank you to all of the wonderful athletes, 2 and 4 legged, incredible volunteers and fantastic sponsors who came to race, help, support and cheer in the 2018 Two By Four Race Against Childhood & Canine Cancer on Saturday, September 29th!
Congratulations to our athletes who raced, ran, jogged, trotted and walked and had such incredible energy and enthusiasm!
Thank you to the Brambleton Community, and  Brambleton Town Center for welcoming us! Under blue skies and brilliant sunshine, memories were made, and our community came together to Crush Cancer @ Both Ends of the Leash! We are grateful for ALL of your participation - and we hope you had as much fun as we did! Give yourselves a pat on the back for making this day so wonderful.!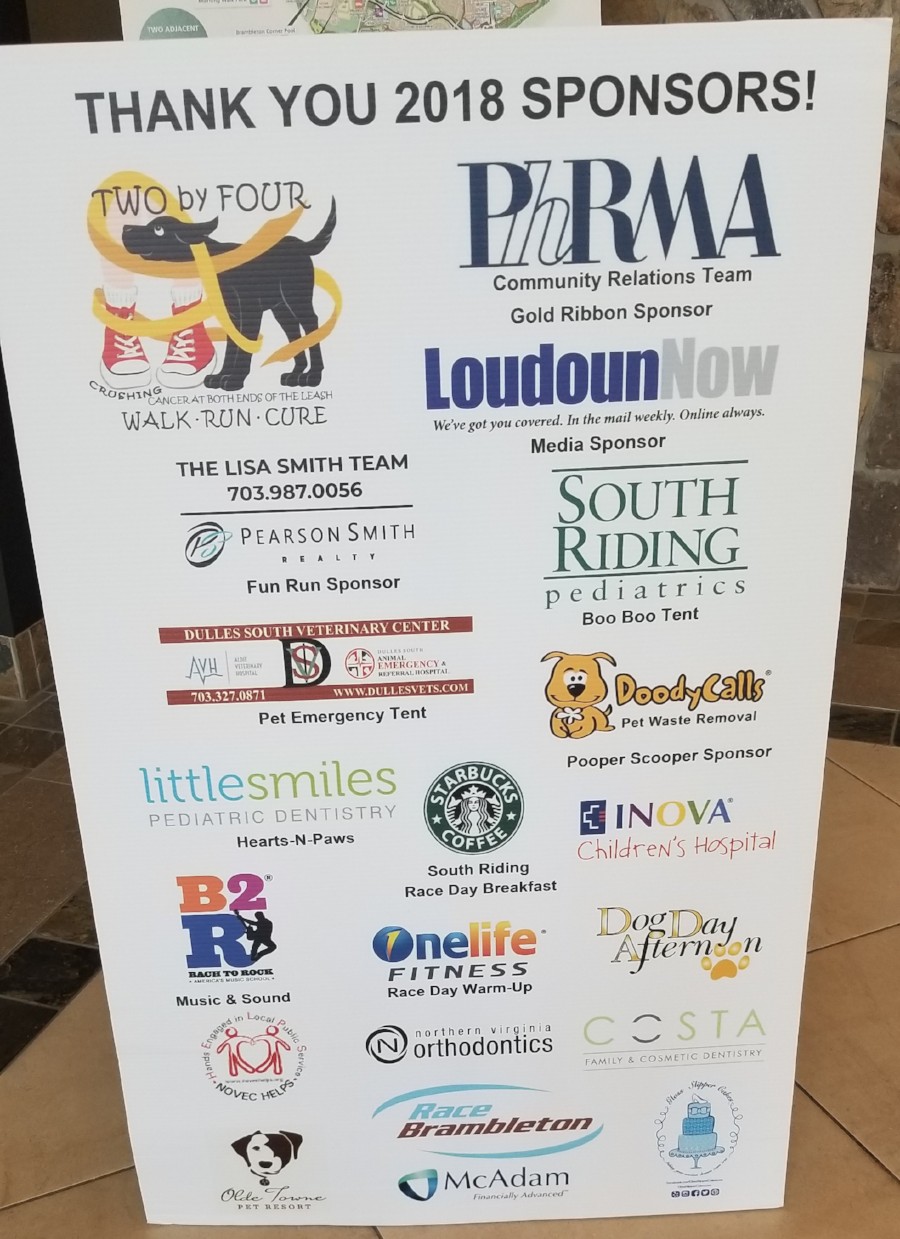 Thank you to our Sponsors!
This race would not have been possible without their generous support! When you are out and about in our community, be sure to let these incredible companies, organizations and individuals know, we ALL appreciate their generosity!
Bach 2 Rock
Costa Family Dentistry
Dog Day Afternoon
Doody Calls
Dulles South Veterinary Center
Inova Children's Hospital
Lisa Smith Team 
Little Smiles
Loudoun Now
Mark Miller, Long & Foster
McAdam Financial Advisors    
Northern VA Orthodontics
NOVEC Helps
Olde Towne Pet Resort
One Life Fitness h
PhRMA
Race Brambleton
South Riding Pediatrics Starbucks
---
Join us at the 3rd Annual Two By Four Race!
Saturday, September 28th, 2019 in Brambleton, VA!! 
 Check back here, and on our Social channels for updates and details
---
CRUSHING CANCER @ BOTH ENDS OF THE LEASH!
Kids Fun Run!

Awesome Volunteers!

5K Finishers!