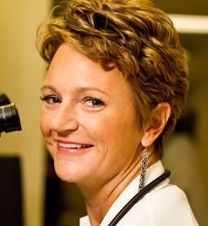 Dr. Carolyn Henry, DVM MS
A special message to One Health Student Clubs from Dr. Carolyn Henry, Associate Dean, University of Missouri College of Veterinary Medicine & Canines-N-Kids Board Member:
On November 3rd, "One Health Day," we have an extraordinary opportunity to bring together individuals and groups from around the world - academic, corporate & non-profit, students and established professionals- to collaborate across disciplines and solve some of today's critical global health challenges – including pediatric and canine cancer.
Cancer is the #1 cause of disease-related death in children in most developed countries- every 2 minutes a child somewhere in the world is diagnosed with cancer. At least 1 in 5 will die from their disease, while the vast majority of survivors will suffer significant long term effects or even secondary cancers from their treatments.
Nearly half of all of the millions of pet dogs diagnosed with cancer will die from cancer - their outlook is no better. 
There is little movement or money behind new (or better) treatments for either of these vulnerable groups. Yet in an ironic, but not surprising twist of fate, we are finding canine tumors share important similarities with kids' cancers ((bone cancer, brain cancer, lymphoma and leukemia), including biology, genetics, recurrence, and metastasis, and that man's best friend might actually help us solve the puzzle through comparative oncology.
I am working with a terrific project that embodies the One Health concept in every way - the Canines-N-Kids Foundation – to bring together critical collaborations across veterinary and pediatric medicine, genomics and immunology, and to fund promising, humane clinical trials to treat canine cancer patients, and that can speed up translation and the onset of clinical trials for kids battling these same cancers.  
I invite the student One Health community to join us.  Help us raise awareness of, and funds for the tremendous, shared unmet need in pediatric and canine cancer and the promise of comparative oncology to put an end to this devastating disease!
___________________________________________________________________________________________________________________________________
On November 3rd, listen in to Dr. Carolyn Henry's address at Collaborate2Cure (4-6 PM US Central/5-6 PM Eastern/2-3 PM Pacific)
To join, you must first register with Zoom.  The conference link is https://zoom.us/j/126943750