It strikes them both, but these patients can help one another!
Dogs and kids both spontaneously develop a number of cancers including bone cancer, certain brain and central nervous system cancers (like glioma or glioblastoma), and lymph and blood cancers (including non-hodgkin's lymphoma and certain types of leukemia).  In many cases, these cancers are different than those in adult humans; and hence, so are the potential treatments which are generally developed and targeted to the more prevalent (lucrative) adult cancers.
In addition, dogs have a higher incidence of certain tumors (such as osteosarcoma), and which are considered rare in children.  By studying these tumor types in dogs, we can learn a great deal about these devastating cancers, while also helping our beloved canines to beat their cancers.
Cancers Common to Children and Canines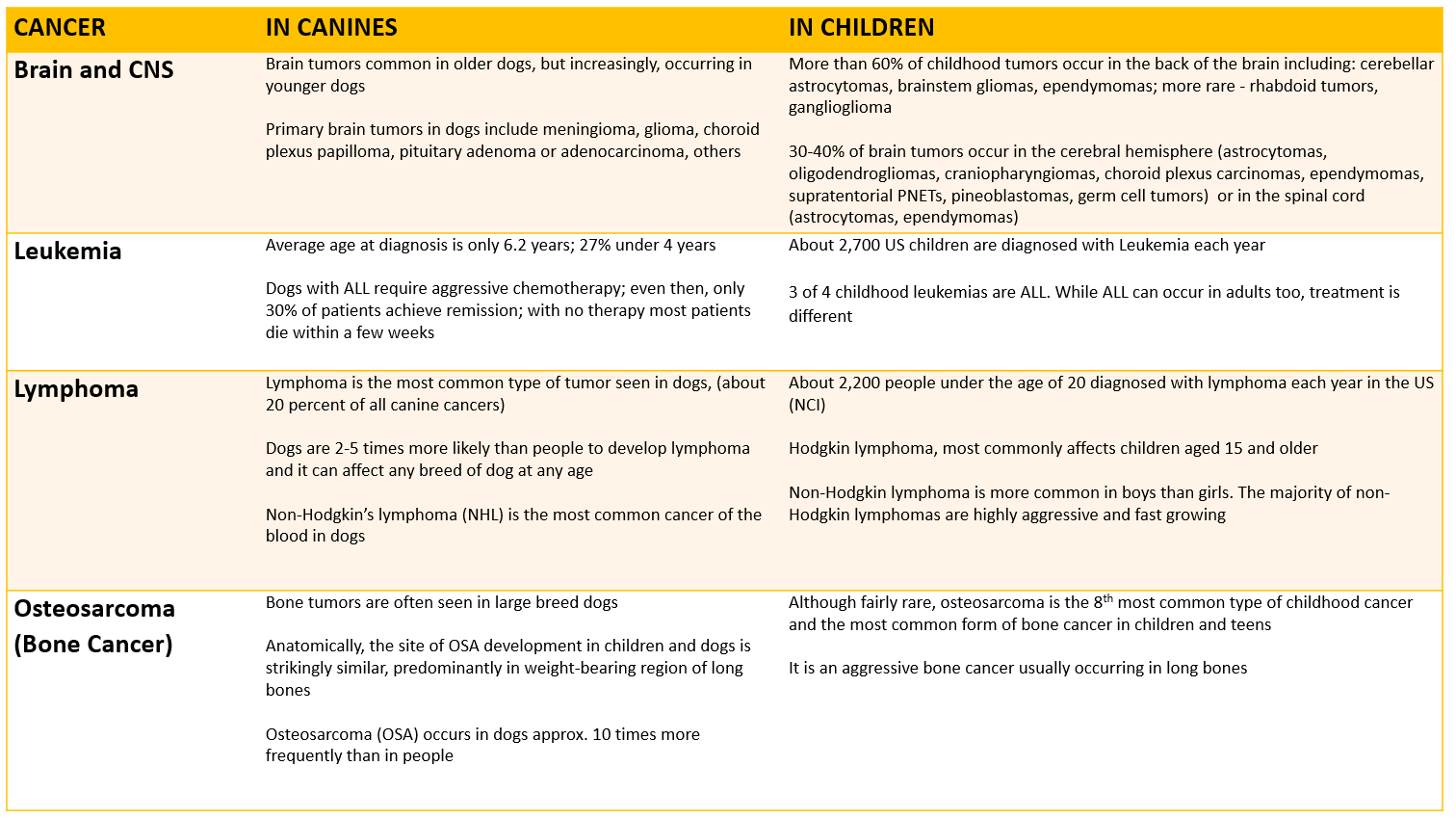 ---
Canines and Kids - Working together for better medicines and a CURE!
Canine Patients as Models for Pediatric Trials:

Just as in children, dogs spontaneously develop a range of cancers, many of them the same or similar. Pet dogs are seen as an important model for studying and treating human disease because they are live in our midst- they experience the same complicated biological, environmental, nutritional and other factors that may lead to the development of cancerous tumors as well as metastases and recurrence. Pet dogs, like humans, develop cancer despite have a functioning immune system (the cancer evades the body's immune surveillance). And, particularly relevant for kids, a dog's size provides a much better approximation for evaluating the dosing and effect of new cancer medicines in children than traditional mouse models do. These important connections between canines and kids afflicted with cancer can help us to find answers, and one day a cure for both.

Towards Better Medicines and a Cure...FASTER!

Between 1948 and January 2003, the FDA approved 120 new cancer drugs, of which only 30 have been used in children. The reasons for this are complex, but approval of new cancer drugs for children generally occurs after their development and approval for treating adult cancers. However, since pediatric cancers are often different than those of adults, the drugs being developed have little or no relevance, and kids' cancers are left unfunded and understudied. Today, most drug development occurs in the industry setting, and the relatively small market for pediatric cancer drugs prevents many biopharma companies from entering to develop novel drugs for kids.

We seek to shift this balance, by raising awareness of the tremendous potential that lies in funding canine comparative research for the benefit of both dogs and children.

Comparative Oncology

Comparative Oncology is the study of naturally occurring cancers in animals and the comparison to their human counterparts. The goal is to better understand cancer biology, underlying genetic factors, and to achieve improved treatments and cures that benefit both humans and animals. Around the United States, there are several important centers where canine patients are being treated for their cancers with new types of cancer therapies, and researchers are working to translate this data in an effort also to advance human cancer medicines. We seek to bring these practitioners together with their human counterparts and institutions - to work on an accelerated path to end pediatric and canine cancer.
---
CNK Board Member, Dr. Cheryl London on Canines as a Model for Human Cancer Medicine