Join the #DogBowlChallenge
STEP 1:  Decide to Do the #DogBowlChallenge
Do/Accept the challenge \If you were nominated by someone, you should respond by doing the challenge within 48 hours.  If you miss the mark in timing, don't let it deter you from participating and/or donating anyway!  If you want to start things off in your Social Media circle of influence you can!  Just go for it!!
OR....Take the alternative:  donate $100 to CaninesNKids.org  Donations are a great idea, regardless of whether you complete the challenge or not!  You can help us Crush Cancers affecting both kids and man's best friend!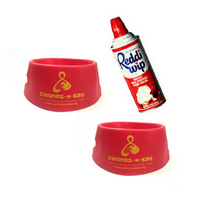 STEP 2:  Gather Supplies Before You Start
two clean dog bowls (or any other smaller bowls)
a can of spray whipped cream - ideally -  (or any other treat you and your pup can slurp together)
a phone to video (and ideally someone to video you!)

a suitable surface (kitchen floor, deck, etc.) 

a sense of humor! 
You and your canine best friend can help beat devastating cancers kids and pups BOTH develop, and fund research to help them both!  The #DogBowlChallenge is similar to others you've seen on social media.  You and your furry best friend will compete, simultaneously slurping whipped cream (or any other messy treat you both can eat) out of a bowl (preferably a dog bowl!)
There's an important equalizer however....the human must do it side by side with their pup! Let's see who can finish fastest and who gets messiest!
STEP 3:  Make Your Video
Explain You're Doing the #DogBowlChallenge!
We've provided a script to help you, but be as creative as you like - but remember to keep it short and sweet too!  (30-60 seconds is ideal)
Challenge Three More People to Do it Or Donate
State their names and tell them they have 48 hours  to accept the challenge!  (See suggested script)

Consider challenging local or other celebrities, community and social media influencers, etc. - choose those who are dog lovers

Feel free to say that you are donating money (in addition to the slurping out of the bowls) to Canines-N-Kids Foundation (and then really do it). 
Humans on Hands & Knees
Part of the fun of this is attempting to do this as your canine companion must – on hands & knees, laying on the floor next to your bowl, with your hands to your sides/behind your back. Think about how it will look best on your video, positioned next to your pup and considering his/her size. 
TIP:   You can have someone else put the bowls down to make it easier for you to get in position!
You Know Your Pup
You know your pup, his/her temperament, whether this activity is suitable for him/her, whether whipped cream or something else will be best,  and whether he/she will cooperate! We want people and pups to have fun but to do it safely.
STEP 4: Upload Video to Social & Add a Short Post!
We suggest Facebook, Instagram and Twitter.  Be sure to tag Canines-N-Kids Foundation in your post!
Facebook & Instagram: 

@Caninesnkids

Twitter:

@CNKFoundation
What to Include in Your Post 
We recommend you use the SAMPLE POST provided for all of the key information!
Donation Link:  https://bit.ly/dogbowlchallenge
Our website -   www.caninesnkids.org  -  

type it into the body of your post and ask people to donate to us there!

Tag three people you want to challenge 
Use Hashtags. The point of a viral campaign is to spread awareness, so even if you're averse to using hashtags, this is a good time to make an exception!. Mark your video/ post with  #DogBowlChallenge and  #LickCancer and spread the word.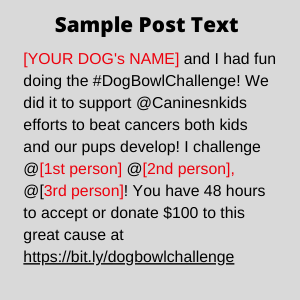 POST TEXT: TO COPY & PASTE

[YOUR DOG's NAME] and I had fun doing the #DogBowlChallenge to support @Caninesnkids efforts to beat cancers both kids and our pups develop! I challenge @__________, @__________, and @[__________ Let's #LickCancer! You have 48 hours to accept or donate $100 to this great cause at https://bit.ly/dogbowlchallenge