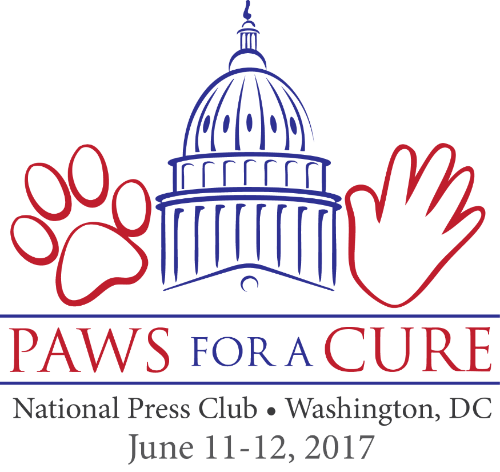 There's some good news coming out of Washington, DC this week for children and pets. I just returned from a meeting which was groundbreaking. Those of us working in the world of cancer know that dogs and kids develop many of the same cancers, but efforts to find a cure are not widely shared. We are now working to change that.
Top cancer researchers and leaders from pediatrics and veterinary medicine—gathered for the inaugural Paws for a Cure Summit, hosted by Canines-N-Kids Foundation—to discuss barriers and solutions to working together to find a cure for these shared cancers in our most vulnerable patients: children and man's best friend.
This is important because 47 percent of dogs die from cancer and more U.S. kids die from cancer than any other disease. Both spontaneously develop a number of identical or very similar cancers--including bone cancer (osteosarcoma) certain brain and central nervous system cancers (like glioma or glioblastoma), and lymph and blood cancers (including B-Cell lymphoma and certain types of leukemia)--which are often different than those in adult humans. Contributing to this, 84 percent of canine DNA has human counterparts making them susceptible to the same diseases (including cancer) according to The Genomics Institute.
Cancer is the number one disease-related death in children and in man's best friend. The problems inherent in designing and implementing pediatric oncology clinical trials coupled with scant resources makes finding a cure difficult for the roughly 16,000 children diagnosed annually with the disease in the United States. In fact, only three new medicines have been developed for pediatric cancer in the last 30 years, only 4 percent of the NIH's budget goes to kids' cancer and virtually no pharmaceutical funding goes to pediatric cancer research. For the six million pet dogs diagnosed with cancer in the US each year, the outlook is no better. Comparative oncology, the study of similar cancers that occur in animals and people, offers tremendous opportunity to find treatments that will benefit both, and potentially provides an opportunity to develop new medicines and get to a cure faster.
Seventy-five top leaders and researchers in veterinary and pediatric oncology, immunology, translational science, industry and the advocacy community attending the Summit had serious discussions about developing a pathway for innovative pediatric cancer treatments that may also help man's best friend.
Among the topics discussed during the Summit explored: how canine cancers represent in their young human counterparts; unique challenges scientists face in studying canine cancers; the state of conducting canine trials; gaps in pediatric oncology that can be addressed through the canine model; innovative comparative work; advocating for pet and pediatric patients; and developing a road map for integrated drug development.
This incredible group of stakeholders also worked hard, offering their best ideas and helping to determine strategies and action steps, including:
• setting up platforms to communicate and share information between the pet and people medical worlds
• creating a basic "toolbox" for vet cancer researchers similar to their human oncology counterparts including needed proteins, antibodies, assays and more
• developing a compelling business case for canine clinical trials in pharmaceutical drug development
• prioritizing Canines-N-Kids grant making to ensure critical and collaborative research projects get funded
• developing cross disciplinary and multi-stakeholder working groups and addressing other barriers to working together.
I left our meeting in DC feeling hopeful that progress for kids and canines is possible if we work together collaboratively to develop new approaches to this tough problem…
One of my favorite comments after the meeting came from pediatric oncologist Dr. Damon Reed, from Moffitt Cancer Center and the Sunshine Foundation, who daily treats kids with rare and devastating cancers: "I left believing there is a better chance for my human osteosarcoma patients. When I got home, I hugged my dog extra as well,"
A special thank you to all who made this incredible and transformative gathering a success! It was heartening to be reminded that Washington, DC is a town where things can get done.