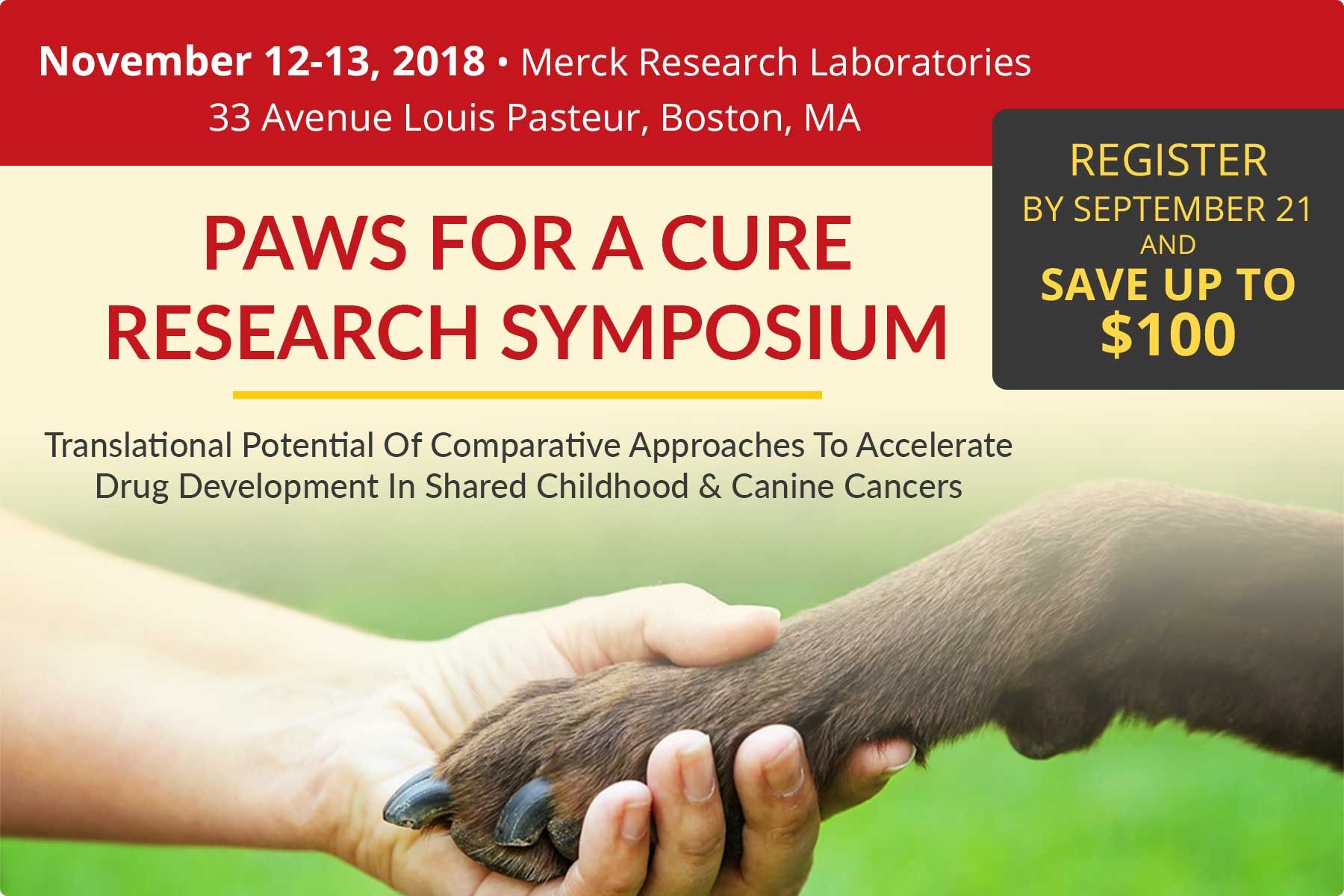 It's September, - it is all about GOLD - ribbons signifying the fight to raise awareness of the incredible unmet need that is Childhood Cancer,  At Canines-N-Kids Foundation, September, Childhood Cancer Awareness Month, is not complete without paw prints...  
Did you know that that dogs and children spontaneously develop a number of similar cancers. In fact, cancer is the leading cause of disease-related childhood mortality in the U.S. and affects nearly half of all pet dogs too.
Canines-N-Kids is Working to Solve Difficult Cancers in New Ways
Although pediatric and veterinary cancer research have traditionally operated independently, recognition of profound clinical and biologic similarities has driven increasingly valuable collaboration among pediatric and veterinary clinicians and scientists.  Scientific progress continues to demonstrate the impact that comparative research can have in accelerating the development of new treatments.  This September, and every day, we are committed to finding a cure to the devastating cancers that both develop by advancing comparative oncology, is working to promote integration of research efforts benefiting both kids and pet dogs.
This year, Canines-N-Kids and Merck will co-host the Paws for a Cure Research Symposium in Boston from November 12-13.  Thanks to significant support from title sponsor, the Petco Foundation, in partnership with the Blue Buffalo Foundation, as well as the Parker Institute for Cancer Immunotherapy, Boehringer Ingleheim, the American Cancer Society, the Rally Foundation and others, the symposium will convene experts to discuss advancing research in pediatric cancer treatments, including how to use comparative approaches to make progress. 
The symposium is important because both children and canine companions spontaneously develop a number of cancers with remarkable similarities. The challenges inherent in designing and implementing pediatric oncology clinical trials for limited number of children with cancer, coupled with scant resources for conducting research on pediatric cancers, makes finding cures difficult for the roughly 16,000 children diagnosed in the US each year.
The integration of drug development in pediatric and pet populations has great potential to accelerate the discovery of novel, more effective, less toxic treatments for the cancers that plague children and dogs. 
Can't make it to Boston for Paws for a Cure?  If you're in the greater Washington DC, northern Virginia area, grab your sneakers, leash, pup and kids for the second Two By Four Race Against Childhood & Canine Cancer taking place on September 29th in Northern Virginia.  Canines-N-Kids is once again hosting this unique,  timed 5k race and un-timed mile long Dog Jog/Fun Run to support cutting-edge research in the cancers that kids and pet dogs both develop.   We welcome two and four legged athletes to help Crush Cancer @ Both Ends of the Leash, so REGISTER today!
#GOLDSTRONG
#CrushCancer@BothEndsOfTheLeash