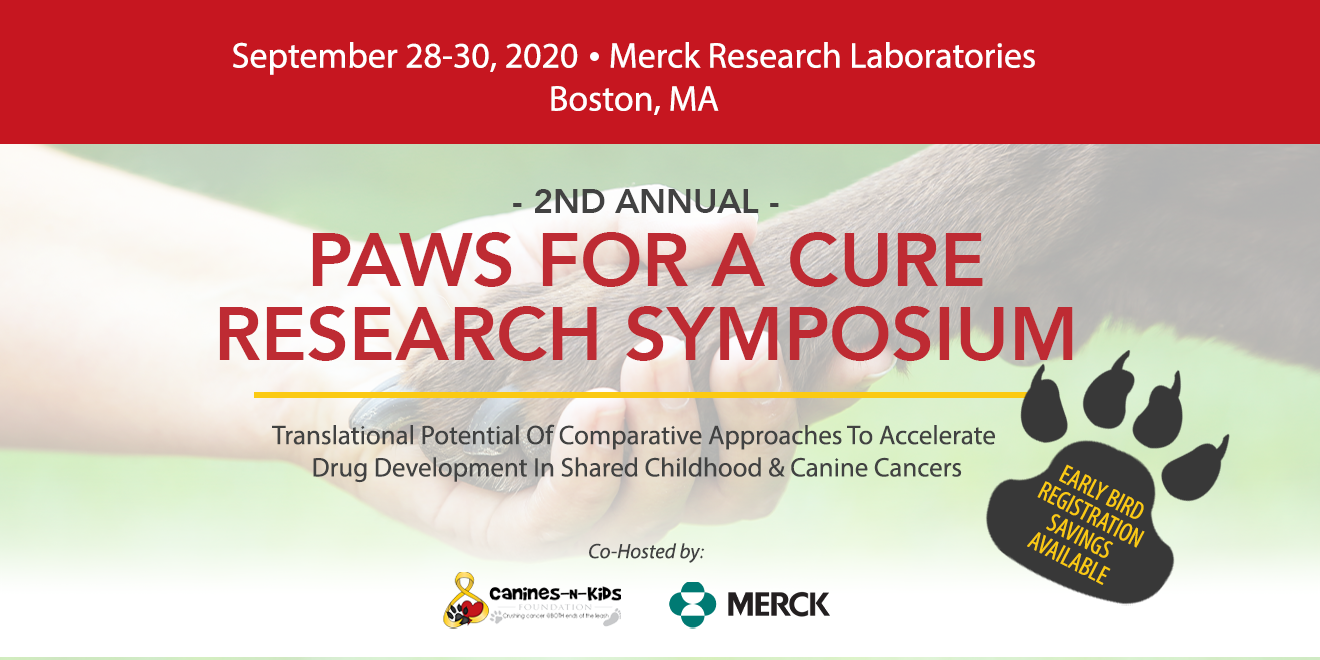 Due to postponement from the novel coronavirus, the Canines-N-Kids Foundation has rescheduled our second annual Paws for a Cure Research Symposium and will present it virtually and free-of-charge to all attendees September 29-30. REGISTRATION IS OPEN for the meeting, which will be co-presented with Merck, and offered free of charge to attendees.  Once again, this one of a kind meeting will gather leaders from the pediatric and canine cancer community  to explore innovative science, encourage more collaboration and accelerate progress in solving cancers shared by children and man's best friend.
With significant support from Merck, the Petco Foundation in collaboration with the Blue Buffalo Foundation, our symposium will gather experts to discuss advancing research in pediatric and canine cancer research. To help us broadcast a top-notch virtual event, we have partnered with LabRoots, the leading scientific social networking website, offering top scientific trending news and premiere educational virtual events and webinars. This event will be especially relevant for pediatric oncologists; veterinary oncologists; translational research scientists in academia and industry; pharma and biotech professionals in preclinical research; drug developers; oncology and animal health experts, and nonprofit and other industry funders.
This year's event will feature keynote presenter, Peter C. Adamson, M.D. Adamson is Global Head of Oncology Drug Development and leader of the Pediatric Innovations Group at Sanofi, Inc. He is also past chair of the Children's Oncology Group, a National Cancer Institute-supported international consortium of more than 220 childhood centers that conduct research and clinical trials in children with cancer.
Additionally, participants will hear from peers and experts about important subjects such as:
The state of the art in comparative and novel translational cancer research
Ongoing preclinical, translational and clinical projects leveraging the canine patient model
The integration of canine and human/childhood datasets in an opensource infrastructure to spur drug discovery
The most promising prospects for future scientific exploration, collaboration and funding, including a scientific poster session and Young Investigators competition
Childhood cancer survivors' and advocates' life journeys
The Paws for a Cure Research Symposium is important because both children and canine companions spontaneously develop a number of cancers with remarkable similarities. The challenges in designing and implementing pediatric oncology clinical trials for limited numbers of children with cancer, coupled with scant resources for conducting research, makes finding cures difficult for the roughly 16,000 children diagnosed in the U.S. each year.
Additionally, limited pharmaceutical industry funding goes to funding pediatric cancer research, which has resulted in only four new medications approved for pediatric patients in the last 30 years. For the six million dogs diagnosed with cancer in the U.S. each year, the outlook is no better. By working together and integrating drug development for both canines and kids, there is great potential to accelerate the discovery of novel, more effective, less toxic treatments for the cancers that plague both children and dogs.
The symposium runs from 1-5 PM each day and is free, but pre-registration is required. Registration information, as well as featured speakers and topics can be found HERE.  #PawsForACure2020