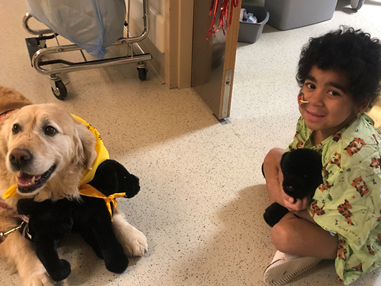 Going through cancer treatment is hard enough for pediatric cancer patients and their families during normal times – but imagine receiving treatment during COVID-19? Isolation, fear and dampened spirits are impacting thousands of children in oncology wards across the United States today. Because of social distancing, there are stricter limits on visits from family and friends; fewer special programs for sick children are operating, and visits from beloved therapy dogs are not yet allowed in many hospitals. However, the Canine-N-Kids Foundation (CNK) has been offering a bright light to these children, in the form of special care packages provided by its Project Hearts & Tails initiative.
Launched shortly before the Coronavirus descended upon the U.S. in February - Project Hearts & Tails works directly with hospitals to provide support packages meant to bring comfort and hope to young cancer patients. Within each package is a copy of a beautiful children's book written by Canines-N-Kids' founder Ulrike Szalay, called  "We'll Get Through This Together," as well as a black Labrador plush toy friend. Soon, the kits will include a ; a red hat from the Black Dog company, and a t-shirt.  The packages are designed to help Certified Child Life Specialists at the hospitals talk with sick children about the emotions they are facing. 
Even in "normal" times, hospitals and treatments can be scary for children who have been diagnosed with cancer or other life-threatening illnesses. In "We'll Get through This Together," a black lab named "Brave" accompanies a young boy going through cancer treatment. Told from the lab's point-of-view, this picture book for children offers comfort and provides reassurance to children battling serious illnesses. In addition, "We'll Get through This Together" explains the profound connection between children, canines, the cancers they both develop, and the promise of comparative cancer research to speed the development of new and better medicines for both. Patients are then encouraged to post pictures of themselves cuddling with Brave; reading their book to him and taking Brave with them to treatments via #ShareYourBrave or posting to the Canines-N-Kids Foundation Instagram and Facebook pages.
"Brave'" doesn't begin to describe what childhood cancer patients and their families endure every day of their battle," said Ulrike Szalay, Founder and Executive Director of the Canines-N-Kids Foundation. ".  What they are going through is not something anyone should have to face, and it is exacerbated by the COVID crisis.  Project Hearts & Tails is our small way of bringing comfort, love and hope if we can, while we work toward a world where there is no more cancer."'
Annika Stout, Child Life Specialist in the Oncology/Hematology unit at Boston Children's Hospital, agrees. "The dogs have been such a source of comfort for the children who are hospitalized and need something cuddly or are missing their own pets at home."
She continued, "We've been grateful to have something to offer our bone marrow transplant patients too, since they are not eligible for a pet visit.  It's been especially nice since COVID started, because our pet therapy program is [virtual] now. The dogs and books are great additions…since the patients aren't able to have a real fluffy four-legged friend with them."
Since its introduction in February, interest in the Project Hearts & Tails program has been robust, with over 250  care packages delivered to sick children in hospitals from Boston to Baton Rouge. If you would like to make a $30 donation to send a Project Hearts & Tails care package to a pediatric cancer patient –  please click HERE.